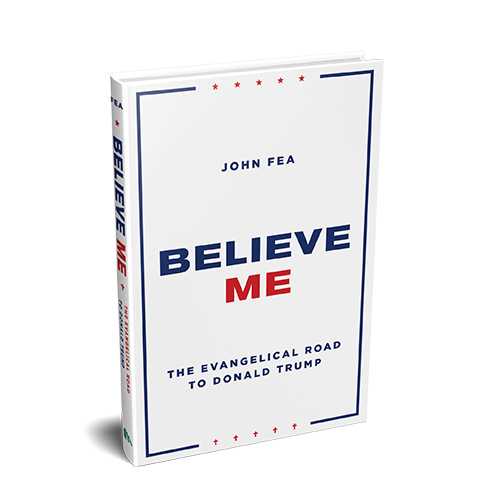 Who is the audience for Believe Me: The Evangelical Road to Donald Trump? There are three audiences.  Here they are, in no particular order:
The 81% of white American evangelicals who voted for Donald Trump.
The 19% of white American evangelicals (and non-white evangelicals) who did not vote for Donald Trump
Anyone who wants to understand why 81% of American evangelicals voted for Donald Trump.
I realize that many of those in the 81% will want nothing to do with this book. But I hope some will read it.  I hope the book can serve as a way of encouraging dialogue in churches and other places where evangelicals gather together in communities of Christian fellowship that transcend politics.  (I am assuming, of course, that some of these places still exist.  I think they do).
I also realize that those who study evangelicals at the highest level–many of them former evangelicals or disgruntled evangelicals–want to take evangelicalism to the woodshed for its many sins.  Their scholarship is good and needed, but I part ways with many of them when it comes to reaching the church.  As a Christian, I am a member of the body of Christ–the Church. That is where I must find my primary identity.
Of course I still have a responsibility to live out my vocation in the academy,  the classroom, and as a professor at a Christian college.  If you are a regular reader of this blog, you know that some posts are written with my church community in mind.  Others are written for American historians or members of the academic community.  Still others are for the general public.  These groups often overlap.  I have written books for my students, my academic discipline, the general public, and the church.
As a Christian, I have chosen to worship among American evangelicals.  In 2016, a large number of my tribe voted for Donald Trump.  I don't think that was a good idea.  I have even written a book to tell my tribe that I do not think it was a good idea.  But in the end, I must live with the people in my tribe and try my best to fulfill my vocation as a historian and educator in their midst.  Some will say I go too far in the criticism of my people.  I know this from the letters, e-mails, and phone messages I receive–some of them pretty nasty.  Others will say I don't go far enough in criticizing my people.  I know this from the reviews of the book.
The trashing of evangelicalism is popular these days and you can get pretty far and become pretty successful in academic/scholarly circles–especially in the fields of history and religious studies–by doing this.  I am sympathetic to scholars who call evangelicals to task for their sins.  As I am learning on the Believe Me book tour, many people had (or are having) very, very bad experiences in evangelicalism.  They are hurting.  They are angry.  I am listening to their stories.
But in the end, I will continue to defend the term "evangelical" because it still means "good news."  For me, this "good news" is the ultimate source of hope for those who are hurting.  I am still willing to fight for the "good news" of the Gospel because this message changed the trajectory of my life and the life of my family and extended family in positive ways.  And I have seen hundreds of other lives changed by this message—men, women, people of color, poor people, rich people, gay and straight people.
In the end, I want to use my vocation as a historian to be a more direct part of the solution in the evangelical church rather than someone who merely diagnoses the problem or calls-out evangelicals for their many sins.  I am not sure I can do this as an academic, but I am willing to try.  Perhaps other Christian and evangelical scholars are called to something different.  But if they are called to something different, they will need to convince me how they will use their gifts and knowledge to serve the body of Christ.  This point relates not only to the content of their work, but also to its style and means of dissemination.
If we pursue this path within evangelicalism today, it will mean that we must serve those with whom we disagree on a whole host of political and cultural issues.  It will also require us to work hard at uncovering the common spiritual and theological ground that draws us together every Sunday morning despite our differences. I am convinced that this kind of engagement deepens our faith, helps us to see the flaws in our precious arguments, makes us better listeners and communicators, and teaches us to love.  It may also mean, in some cases (but certainly not all cases), staying in a particular religious tradition rather than leaving for a more a comfortable place of worship and fellowship where people think more like us.
Postscript:
I am sure that for some of my readers, this post just made me a subject of analysis, rather than a detached scholar.  Of course such analysis goes both ways.  I have seen many of my fellow academics as subjects of analysis for a long time! 🙂