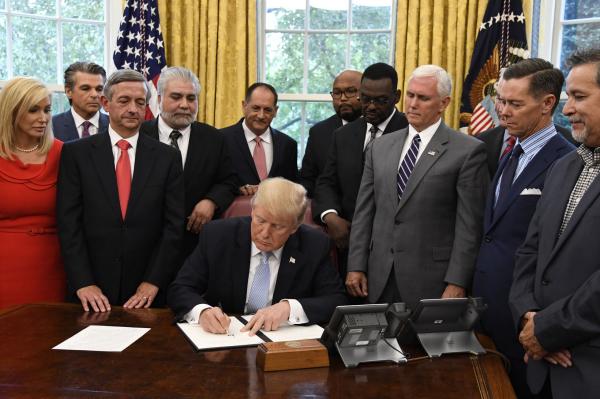 Yesterday USA Today published a piece I wrote about Trump and evangelicals.  The editors chose the following title: "White evangelicals fear the future and yearn for the past.  Of course Trump is their hero."  The article draws heavily from the introduction to Believe Me: The Evangelical Road to Donald Trump.
Here is a taste:
Donald Trump is about to name his second conservative Supreme Court justice now that Anthony Kennedy is retiring. Conservative evangelicals are celebrating. They have been waiting, to quote the Old Testament book of Esther, "for a time such as this."
For the last year I have been thinking deeply about why so many of my fellow evangelical Christians support Donald Trump.
I have wondered why they backed his zero-tolerance immigration plan that separated families at the border. I have tried to make sense of why some of them give him a "mulligan" (to use Family Research Council President Tony Perkins' now famous phrase) for his alleged adulterous affair with adult film star Stormy Daniels. Why did so many evangelicals remain silent, or offer tepid and qualified responses, when Trump equated white supremacists and their opponents in Charlottesville, Virginia last summer?
What kind of power does Trump hold over men and women who claim to be followers of Jesus Christ? Evangelical support for Trump goes much deeper than simply a few Supreme Court justices.
Read the entire piece here.