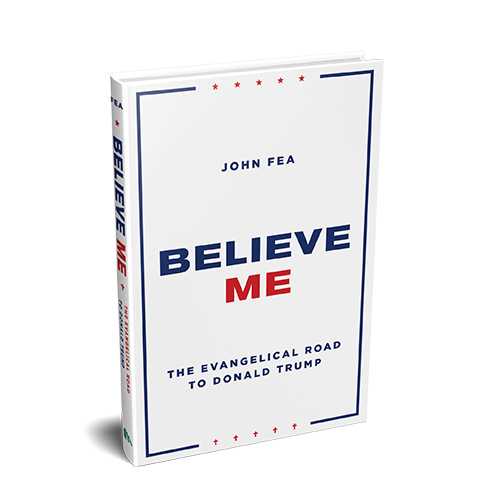 I can't thank Jana Riess enough for her encouragement, friendship, and support of my work.
As some of you know, she was the editor of my Was America Founded as a Christian Nation?: A Historical Introduction.  We had a nice little run with that book, including a day at Mount Vernon in June 2011 where we were honored as a finalist for the George Washington Book Prize.   We had lunch at the Mount Vernon Inn, climbed to the cupola of Washington's house, and hobnobbed on the lawn with the D.C. elite, including Supreme Court Justice Sam Alito.
Needless to say, I was thrilled when she agreed to blurb Believe Me: The Evangelical Road to Donald Trump:
"It would be enough for John Fea to marshal his considerable prowess as a historian in proving how evangelicals have been propelled by fear, nostalgia, and the pursuit of power, as he does so compellingly in this book. But he also speaks here as a theologian and an evangelical himself, eloquently pointing toward a better gospel way. This is a call to action for evangelicals to move beyond the politics of fear to become a 'faithful presence' in a changing world."
Today, Religion News Service published Jana's interview with me.  Here is a taste:
RNS: Your second point is that white evangelicals have bought into the idea that the only way to have an impact on the culture is to seize upon worldly power. What were the roads not taken? What else could they have done instead?
Fea: The history of American evangelicals appealing to political power is a relatively new history, maybe going back to the late 1970s and 1980s with the rise of the Christian right. I argued in Was America Founded as a Christian Nation? that evangelicals had been in power in America up until the 1960s in terms of determining what would be America's cultural symbols, understanding of marriage, and position on other social issues. It's not until those traditional values become challenged in the 1960s that evangelicals begin this new strategy of pursuing political power as a way to reclaim the culture.
Since the 1960s, there have also been some evangelical approaches to politics that are unrelated, or do not call for the pursuit of political power, like James Davidson Hunter's idea of "faithful presence" or Michael Gerson's call for evangelicals to learn more from Catholic social theory. Or there are Dutch Reformed people who are followers of Abraham Kuyper, who did not advocate seizing political power in the way the Christian Right wants to do. And since the early 1970s, people on the evangelical Left, like Jim Wallis and Ron Sider, have called for a different kind of evangelical power. But the Right refuses to adopt any of these models, and has instead built their entire political philosophy on changing the culture by trying to elect leaders who will follow their agenda.
Read the entire interview here.