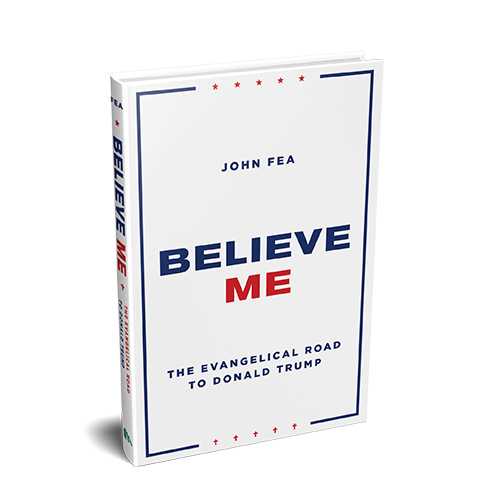 I cannot read the entire review because it is behind the Hedgehog Review paywall, but if Wilson wrote it, I am sure it is a fair review.  John has told me that he disagrees with some of my take on Trump, so I am eager to see what he wrote.
Here is a taste:
We hear a great deal of huffing and puffing about the gap between academic history and the general reader. But we don't hear enough about the first-rate historians who work in various ways in their various spheres to bridge that gap: figures as wide-ranging as Danielle Allen, Eleanor Parker, Tom Holland, and Kevin Kruse, to name a few.
Any adequate account of such bridge builders must include John Fea, a history professor at Messiah College who is best known for his book Was America Founded as a Christian Nation? "I have long defined myself as a 'public historian,' but not in the traditional way that the academy defines public historian," Fea explained in a recent lecture. "I do not work in a museum or historical society. I teach American history to undergraduates. But having said that, I have worked hard at trying to bring history to bear on public life—to bridge the gap between academic history and public history and to introduce historical interpretation to the public in a way that is accessible and easy to digest. I have tried to do this through my books, my daily blog, my podcast, and, of course, in the classroom. This is my so-called platform."
The latest product of this desire "to bring history to bear on public life" is Fea's sardonically titled book Believe Me: The Evangelical Road to Donald Trump. Here, Fea reports on the "court evangelicals" (a memorable phrase he put in circulation) who have given their uncritical support to Trump in exchange for access to the throne and the opportunity, so they suppose, to advance their Christian agenda. To what precise extent their endorsement contributed to the notorious 81 percent of white evangelicals who voted for Trump, we can't be sure, but certainly they represent at least three significant factions within the vast, unruly evangelical constituency: in Fea's reckoning, "the new old Christian Right," which harks back to the heyday of the Moral Majority; followers of the "prosperity gospel"; and the "Independent Network Charismatics," a movement made up of loosely affiliated groups that operate outside traditional denominational and parachurch settings, with an emphasis on charismatic gifts, "spiritual warfare," and the need for Christians to occupy critically influential positions in American society.
By providing a lucid narrative of the rise of the court evangelicals, their fawning pronouncements, and their self-contradictions (e.g., character mattered mightily during the Clinton presidency; now it can be brushed aside), Fea has performed a great service. For brazen effrontery, it's hard to top Jerry Falwell Jr., president of Liberty University. As Fea relates, when presidential candidate Trump was visiting the Liberty campus on Martin Luther King Day 2016, "Falwell Jr. pointed out" that Jesus, Martin Luther King Jr., and Trump "all were persecuted for their 'radical' and 'politically incorrect' ideas."
So how did it happen that so many evangelicals, of all people, should vote for a candidate who is manifestly unfit to be president of the United States? For many longtime critics of all things evangelical, the overwhelming support for Trump wasn't a surprise at all: It merely confirmed their judgment of a fatally flawed movement: hypocritical, intolerant, and deeply infected by white supremacy. (In this view, Trump is the evangelical id, unleashed.) Fea himself takes a slightly different angle, noting that he was initially shocked as well as deeply dismayed by the "large number of my fellow evangelicals" who voted for Trump. Yet, he goes on to say, as time passed, "my distress did not wane, but my surprise did. As a historian studying religion and politics, I should have seen this coming."