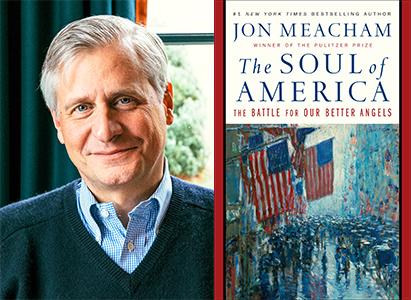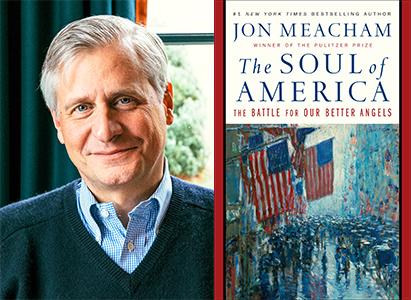 Meacham is on tour for his new book The Soul of America: The Battle for Our Better Angels.  In a recent piece at USA Today he shares some advice on how to survive the age of Trump.  A taste:
►Enter the arena. The battle begins with political engagement itself. Theodore Roosevelt put it best: "The first duty of an American citizen, then, is that he shall work in politics; his second duty is that he shall do that work in a practical manner; and his third is that it shall be done in accord with the highest principles of honor and justice."
Politicians will disappoint; that's inevitable. But they will also, from time to time, thrill. "Every man who has been in practical politics," TR remarked, "grows to realize that politicians, big and little, are no more all of them bad than are all of them good." One need not become a candidate (though that's certainly an option worth considering) or a political addict hooked on every twist and every turn and every tweet. But the paying of attention, the expressing of opinion and the casting of ballots are foundational to living up to the obligations of citizenship in a republic.
►Resist tribalism. Engagement, especially at a time of heightened conflict, has its perils: Those motivated by what they see as extremism on the other side are likely to see politics not as a mediation of difference but as existential warfare where no quarter can be given. The country works best, however, when we resist such tribal inclinations.
Ever practical, Eleanor Roosevelt offered a prescription to guard against tribal self-certitude. "It is not only important but mentally invigorating to discuss political matters with people whose opinions differ radically from one's own," she wrote. "For the same reason, I believe it is a sound idea to attend not only the meetings of one's own party but of the opposition. Find out what people are saying, what they are thinking, what they believe. This is an invaluable check on one's own ideas. . . . If we are to cope intelligently with a changing world, we must be flexible and willing to relinquish opinions that no longer have any bearing on existing conditions."
If Mrs. Roosevelt were writing today, she might put it this way: Don't let any single cable network or Twitter feed tell you what to think.
►Respect facts and deploy reason. There is such a thing as discernible reality. Facts, as John Adams once said, are stubborn things, and yet too many Americans are choosing this view or that perspective based not on its grounding in fact but on whether it's a view or perspective endorsed by the leaders one follows.
Read the entire piece here.