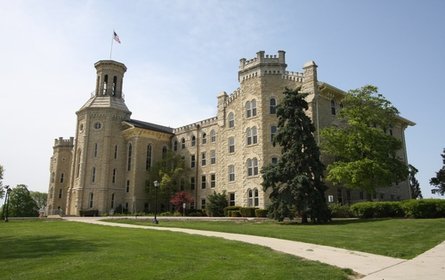 I have never heard of the blog Pulpit & Pen, but apparently they spent a lot of time offering readers "theology," "polemics," and "discernment."  The website is run by a Southern Baptist pastor in Montana named JD Hall.  You can read more abou this website here.  It should also be noted that Hall is not new to controversy.
Apparently Pastor Hall was not very happy about the evangelical leaders who met at Wheaton College earlier this week to discuss evangelicalism in the age of Trump.  (He is not the only one).  Check out his April 17 post at Pulpit & Pen titled "Marxist Brain Trust Gathers at Wheaton to Discuss Moving Evangelicals Left." (Thanks to David Swartz for bringing this to my attention).
A taste:
In the meantime, these same evangelical "thought leaders" – aka the Evangelical Intelligentsia (EI) – have gathered at Wheaton College to discuss how to shift evangelicals away from supporting conservative politics in the name of "saving evangelicalism." Yesterday and today – April 16 and April 17, 2018 – these leaders are in a closed-door meeting that, according to the Washington Post, was organized by avowed Marxist and Gospel Coalition co-founder, Tim Keller. Approximately 50 such leaders from the EI are discussing the best ways to shift evangelicals away from supporting conservatism, and they include Keller, Ed Stetzer, A.R. Bernard (the pastor who very publicly resigned from Trump's faith advisory panel over Trump's lack of political correctness following the Charlottesville race riot), Doug Birdsall (an honorary chair of the rabidly globalist and pro-Roman Catholic Lausanne Committee for World Evangelization, which you can read about in E.S. William's book, here), Jenny Yang of World Relief (which signed a public statement condemning President Trump over his enforcement of U.S. immigration law regarding the "Dreamers") Bishop Claude Alexander (who signed a letter from evangelicals condemning Trump, using the ideology of Critical Race Theory to do so), Mark Labberton of Fuller Seminary (who wrote a book, Still Evangelical?, which is a collection of essays encouraging evangelicals to abandon their title for the sake of not alienating the political left), Jo Anne Lyon of the Wesleyan Church (who is a part of Evangelicals for Social Action, along with other progressives like Rachel Held Evans), and Gabriel Salguero of the National Latino Evangelical Association (who, as you would expect, has written articles in places like the New York Times encouraging evangelicals to go politically left if they desire to coalesce with Hispanic believers).
Read the entire piece here.  I am not sure whether to laugh or cry.