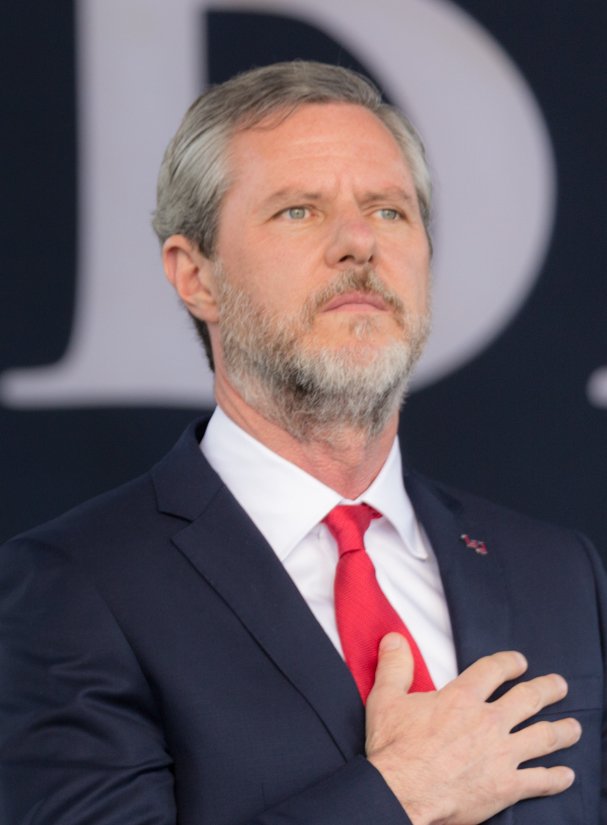 On Sunday, Robert Jeffress invited Sean Hannity to talk politics in his Sunday morning worship service.  Not to be outdone, fellow court evangelical Jerry Falwell Jr. is now backing Steve Bannon's attempt to oust "fake Republicans" from office. Breitbart has published an article based on an "exclusive interview" with the Liberty University president.  I am assuming this is not fake news.
Here is a taste:
"I've coined the term 'Fake Republicans,'" Falwell, a key early endorser of President Trump in the 2016 GOP primaries, told Breitbart News. "There are four or five 'Fake Republicans' in the Senate and many in the House. If they can be replaced in 2018—the political class needs to go. If the people can go out and find candidates like Donald Trump who have been successful in the private sector and go out and primary those people—I'm talking about, I know it's not going to happen in Maine, but I'm talking about people like Susan Collins, [Lindsey] Graham, [Jeff] Flake, [John] McCain, [Mitch] McConnell. Even the ones that don't—I heard somebody on the radio this morning, one of Mitch McConnell's friends, bragging about how the Republicans have gone 95 percent with Trump's agenda. Well, the five percent is always the one—the issues that matter. It's always the issues that matter. They don't always, the group of 'Fake Republicans,' they don't always vote against it. They just make sure enough of their buddies vote against it to kill it. It's all done behind closed doors. They got to go. And I think if they go, Trump is going to be the greatest president since Abraham Lincoln."
When asked specifically about Bannon's season of war, Falwell says: "I love it." Falwell also praised nationally syndicated radio host Laura Ingraham, who's another leader in the movement to oust "Fake Republicans."
"I knew when he left the administration, he was doing it for a reason," Falwell said. "A good reason. And now we all know what it was. He sees that for Trump to be successful, those guys got to go. I'm so proud of him for going after them and leading the effort and Laura Ingraham is out there helping the effort too. She spoke here last week. Actually, she did her radio show live from Liberty."
Read the rest here.