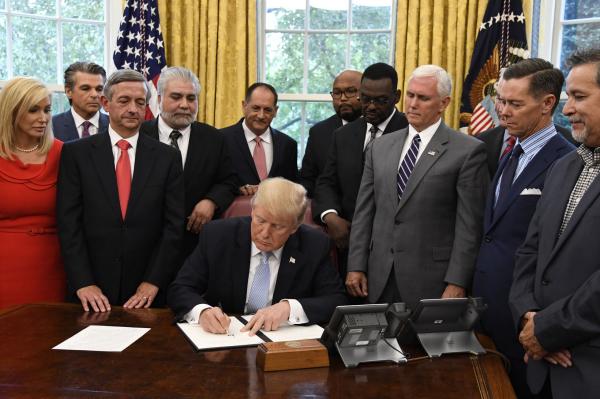 Jim Wallis of Sojourners offers his take on the recent "Values Voter Summit."  Here is a taste of his piece "The Religious Right Will Rise and Fall with Donald Trump":
President Donald Trump is the logical hero for the "religious right," judging by how he was welcomed to their Values Voter Summit last weekend. These Christians rallied around the billionaire playboy, political bully, ethno-nationalist, and purveyor of racial bigotry. As a result, he has become the moral definition of their movement.
The religious right will now rise and fall with Donald Trump.
Trump is the natural conclusion to how the religious right movement began, and what it has become. When it comes to this movement, the operative word is clearly not "religious" (or even "Christian"), but "right." (And for the vast majority of "values voters" who are white Christians, the operative word is not "Christian" but "white.")
The longest applause for President Trump from the right-wing white evangelicals gathered in Washington D.C. last Friday was when he brought up the flag, not the cross. Those standing and shouting "USA! USA!" were making a clear statement against black athletes who have been protesting racial injustice and police brutality during the national anthem.
Steve Bannon showed up, too, and his revivalist message of economic and cultural nationalism also wowed the crowd, with an altar call to make "war" on the Republican establishment, because "you are the transmission of the best values of the Judeo-Christian West."
Bannon's far-right media platform makes clear what the racial implications of this cultural nationalism are. Of course, the fact that Jewish and Christian values actually abhor the exclusion of other human beings, and hold every society accountable for how we treat the poorest and most vulnerable, was not mentioned. Muslims, of course, were also not mentioned, except for accusations of false religions and implied terrorist threats to America.
Let's be clear. "America First" is not just a political statement — it is a theologically heretical statement. The body of Christ is the most international and racially diverse community on the planet, in keeping with the teachings of Jesus' gospel. But that got passed over for another gospel — that of white American ethnocentrism, a worldview hateful of "others" including immigrants, refugees, Muslims, and black athletes who take a knee. Curiously, Jesus didn't come up very often at the Values Voter Summit, except tangentially, in Trump's pledge that everyone will once again say "Merry Christmas" at our shopping centers—where we revere the one born in a manger by lining up for holiday sales.
Read the entire piece here.