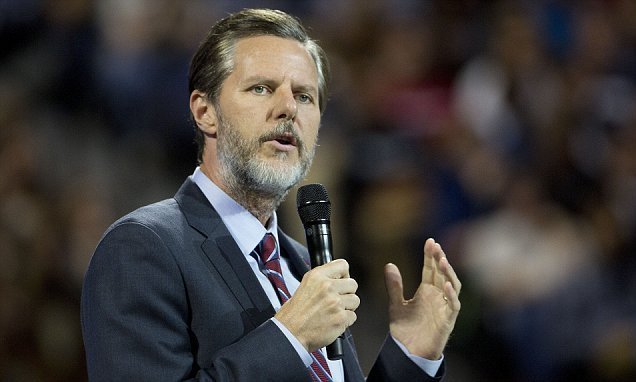 We have covered this story here and here and here.  Sojourners web editor Sandi Villarreal has talked to some of these Liberty University alumni.  Here is a taste of her piece:
Falwell was one of the earliest evangelical supporters of the Trump campaign and now serves on the president's Evangelical Advisory Board as well as a White House education task force. In an interview with ABC's "This Week" on Sunday, Falwell defended the president's "many sides" comments on Charlottesville, saying Trump's political incorrectness is one of the reasons he supports him.
A week before that interview, Dave Oldenkamp, associate pastor at Yakima Alliance Church in Yakima, Wash., and a Liberty alumnus, stepped to the pulpit of his church to offer a clear message: Racism is sin, and the church has the responsibility to be ministers of reconciliation who fight against injustice.
"Reconciliation is active. It's alive," he told his congregation. " … I think for each one of us we have to ask ourselves some tough questions — not about the things that we've done, but maybe the things we've not done."
Oldenkamp has three sons, one of whom is black. He said he felt the need to say something not only as a pastor, but as a father. Oldenkamp, who received his master's degree in Christian Ministry from Liberty in 2009, said Charlottesville — including President Trump's response, and Falwell's defense of it — was a tipping point for him. He signed the letter to the board and plans to send his diploma back.
"When I look at my son, and I look up on my wall and see my diploma, I feel this disconnect," he said. "… If I'm not willing to do this simple act, how can I call myself his dad? How can I call myself a pastor or Christian if I'm not willing to speak?"
The alumni group's letter to the board focuses on a loss of Christian witness, calls out Trump's "open disrespect for ostensible Christian ideals," and criticizes Liberty's leadership for failing to rebuke his positions.
"Mr. Trump is 'a liar, and the truth is not in him.' 1 John 2:4. He is a misogynist. He has disavowed the need for personal repentance and alleged that he is not a sinner," the letter reads.
"The University has failed to rebuke these positions and has instead excused him, denied the obvious, or withheld condemnation. In other words, degraded its core mission and defiled its core beliefs, substituting the worship of power and influence for the worship of God. Ten years after Jerry Falwell's death, the decades-long criticisms of the concept of a Religious Right have been proven true."
Read the entire article here.