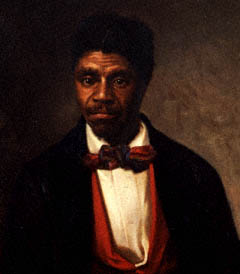 Well, actually both Roger Taney and Dred Scott are dead.  But this did not stop a descendant of Taney (also named Roger Taney) from apologizing to a descendant of Scott.
Here is a taste of an
article
from 
The Washington Post:
Lynne M. Jackson winced outside the Maryland State House on Monday as she listened to Charlie Taney repeat some of the words his great-great-grand-uncle wrote in the U.S. Supreme Court's Dred Scott decision 160 years ago.
Black people cannot be U.S. citizens and have no rights except the ones that white people give them. Whites are superior to blacks. Slavery is legal.
"You can't hide from the words that [Roger Brooke] Taney wrote," Charlie Taney said, standing a few feet from a statue of his ancestor, who lived in Maryland and was chief justice of the nation's highest court from 1836 until his death in 1864.
"You can't run, you can't hide, you can't look away. You have to face them."
Then Charlie Taney turned to Jackson, the great-great granddaughter of Scott, an enslaved man who sued for his freedom. He apologized — on behalf of his family, to the Scott family and to all African Americans, for the "terrible injustice of the Dred Scott decision."
Read the entire piece
here
.  Lean more about the Dred Scott decision
here
.