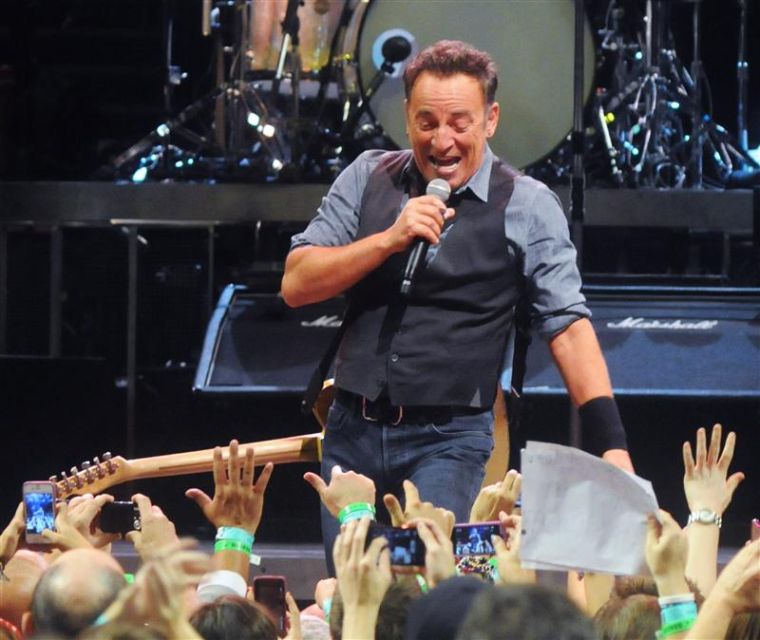 As I type this, Bernie Sanders is giving his stump speech to a packed house at Rec Hall on the campus of Penn State University.
Sanders draws very large crowds at his rallies.  But there was another progressive in State College this week who draws even larger crowds.  Rec Hall holds just under 7000 people, but it is not the largest indoor space at Penn State.  Bryce Jordan Center, home of the Nittany Lions basketball teams, holds over 15,000 people.  Bruce Springsteen filled it last night.
I don't know who Springsteen is supporting in November, but I would not be surprised if he is backing Sanders. It seems as if their politics are identical.  Both men are angry about inequality and the control that special interests have over the democratic process.  They both blast the fat cats.
Right now, as I watch on C-SPAN, Sanders is railing on the "greed" and "illegal behavior" of Wall Street that "seriously hurts the lives of our fellow Americans."  He just said that the "business philosophy of the major financial organizations in the United States is fraud."
And here is the Boss from his song "Shackled and Drawn":
Gambling man rolls the dice, working man pays the bills
It's still fat and easy up on bankers hill
Up on bankers hill the party's going strong
Down here below we're shackled and drawn
Shackled and drawn, shackled and drawn
Pick up the rock, son, and carry it on
Trudging through the dark in a world gone wrong
Woke up this morning shackled and drawn
On social issues, Sanders is adamantly pro-choice and pro-gay marriage.  Recently Bruce Springsteen canceled a concert in Greensboro, NC in protest against the state's law requiring trans-gendered people to use the public restroom that corresponds to the gender listed on their birth certificates.
But last night in the Bryce Jordan Center, Springsteen did not talk politics.  He did not mention the Greensboro cancellation.  Instead, he played an old-fashioned rock and roll show.  I was there.  And it was incredible.
During this tour Springsteen is playing his entire 1980 double album  The River. Bruce describes The River as an album he wrote as he was trying to figure out "where he fit in" in a world of  fun, dancing, laughter, jokes, good comradeship, love, sex, faith, lonely nights, and teardrops."  He defines it as a "big record that felt like life."
This was the third Springsteen concert I have attended with my entire family.  My wife and daughters are casual Springsteen fans, so I prepared everyone by playing the entire album on the 90-minute drive up to State College. For the first time I can remember, everyone listened intently.
Here are the highlights:
"Meet Me in the City," an outtake from The River, is quickly becoming one of my favorite (top 25) Springsteen songs.  He has opened every concert on this tour with the song.  (Although I thought he might break with tradition and open with his lesser-known "Lion's Den" in the way that he did in his 2012 show at Penn State).
Penn State students love Springsteen, even when they don't know the words to the songs.  We had a pack of them around us in the pit.  The whole night felt like a college show.  A lot of 18-22 year-old kids were wearing red, white, and blue bandannas.   (You don't usually see this at 21st century Springsteen shows).  During the encores Springsteen played "Born in the USA" for them.  When Max Weinburg hit the drums on this song it felt like the entire arena shook..
A Springsteen concert is very white and very middle class, but the age diversity is striking.  From our spot on the floor I saw several elementary school-aged kids as well as people who were probably, by my best guess, in their 70s.  Yet it was the college students who led the way.  Bruce was energized by them and on several occasions praised the crowd.
As is often the case, the 66-year-old rocker did a little crowd-surfing on "Hungry Heart."
The River is not my favorite Springsteen album, but I thoroughly enjoyed listening to all the songs in the order that they originally appeared on the album.  In an age of ITunes, I worry that no one listens to albums anymore.  Springsteen albums tell stories.  And he told one last night.
After finishing The River, Springsteen played hit after hit: Badlands, Promised Land, Because the Night, and The Rising.  Then it got even better.  In response to a sign in the audience, the Boss and the E Street Band played the epic ballad Jungleland. This was the moment that my daughters were hoping for.  They love Jungleland and until last night they had never seen it performed live.  Jake Clemons has a long way to go before he plays the sax solo as well as his uncle Clarence, but it was still very good. Jungleland was followed by Thunder Road, Born in the USA, Born to Run, Dancing in the Dark, Rosalita, and Tenth Avenue Freeze Out.  What a run!
Springsteen did not play any songs from his last few social-justice oriented albums. Instead he turned to his old song book–songs about girls and boys, cars, love, ambition, brokenness and fun.  Sometimes this is all we need.
Bernie is still speaking.