I am happy to report that I will be doing an online graduate course for the Gilder-Lehrman Institute of American History this coming Fall.  Learn more about it here.  

A taste:

COLONIAL NORTH AMERICA
Too often the history of the "American colonies" focuses on the thirteen British provinces that rebelled against the mother country in 1776 and formed what became known as the United States. While such an approach allows us to understand the British roots of our current national identity, it fails to do justice to those regions of North America (many of which eventually became part of the United States) and those people and groups that did not participate in the grand experiment of American independence.
This course will examine North American history during the period of European colonization. Rather than thinking about colonial America as a necessary forerunner to the American Revolution or the birth of the United States, we will make an effort to understand colonial life on its own terms. Though we will not ignore the British colonies on the eastern seaboard, we will also examine the colonial experiences of the French, Spanish, Dutch, and other European nations. In the process, we will critique the so-called "Whig" interpretation of the colonies and think together about how this particular period in the American past provides a laboratory for teaching historical-thinking skills in the K–12 classroom.
SCHEDULE
The course will meet for live sessions on ten evenings in the fall from 7:00 to 9:00 p.m. Eastern Time. Specific dates will be announced soon.
The course will present two types of sessions:

Six seminar lecture and discussion sessions led by Professor John Fea
Four pedagogy sessions that demonstrate how to bring the content into middle and high school classrooms

All sessions will be recorded and available to watch on-demand.
Regular attendance is strongly encouraged, but not mandatory.
READINGS & ASSIGNMENTS
These details will be announced when we launch registration on July 6, 2015.
COSTS
Graduate participants may join live sessions and complete assignments in pursuit of 3.0 graduate credits from Adams State University for $600.
Auditors may watch session recordings and pursue a Continuing Education Certificate of Completion for $25. Teachers from Gilder Lehrman Affiliate Schools may audit for just $15. Please note that auditors are not permitted to take part in the live sessions.
REGISTRATION
Registration begins July 6 and concludes August 24, 2015, at 11:59 p.m. Eastern Time. Please note that the credit-bearing graduate section of the course is limited to 100 participants and may fill before the registration period ends.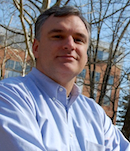 LEAD SCHOLAR
John Fea
John Fea is professor of history and chair of the History Department at Messiah College in Mechanicsburg, Pennsylvania, where he has taught early American history for thirteen years. He is the author or editor of four books, including the award-winning 
Was America Founded as a Christian Nation? A Historical Introduction
 and 
The Way of Improvement Leads Home: Philip Vickers Fithian and the Rural Enlightenment in Early America
. Fea writes and speaks widely to both academic and popular audiences. He is an Organization of American Historians Distinguished Lecturer and has been awarded fellowships by the American Philosophical Society, Mount Vernon, the McNeil Center for Early American Studies, and the New Jersey Historical Commission, among others. He blogs daily at
www.philipvickersfithian.com
.